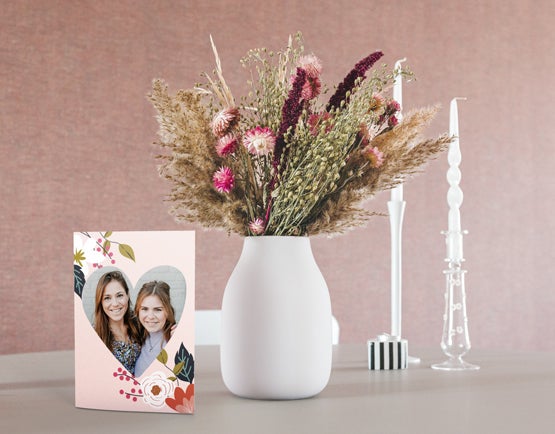 Tip #1: Get rid of plastic!
Sometimes it only takes a small amount of effort to live a more sustainable life. Eliminating plastic from bottles or cups is something that doesn't take a lot of effort but has a really big impact!
A personalised reusable water bottle is a great environmentally friendly gift.
Those who adopt an eco-friendly style probably already have a water bottle in their bag, but did you know that it is possible to create your own unique personalised bottle?
You can add the photo and/or text of your choice to the water bottle or choose from a wide selection of fun designs.
To make it a perfect gift for Valentine's Day, you can add a beautiful photo of your special someone or a snapshot taken on one of your trips.
Tip #2: Sustainability in the kitchen!
Did you know that you can easily eliminate plastic at the dinner table? A great deal of waste comes from the bottles you buy at the supermarket, which end up in the rubbish bin as soon as they are empty.
Replacing them with a reusable glass bottle is a quick solution and the environment will thank you!
On our YourSurprise website, you can find two types of glass bottles that can be personalised with an engraving. We also have a selection of kitchen accessories with a focus on sustainability, perfect for those who enjoy spending time whipping up delicious dishes in the kitchen.
Our wooden cutting boards, for example, are FSC-certified, making them environmentally friendly as they support economically and socially sustainable forest management.
An apron is a must in the kitchen. Take a look at our recycled leather apron, made from high quality leather cuttings - nothing gets thrown away!
Tip #3: Eco-friendly on the go!
Take-away coffee is the ideal solution for those who don't have time to enjoy their coffee at home but can't be without their daily dose of caffeine. If your special someone always has a paper cup full of their favourite drink, surprise them with a nice thermal cup! Its practical handle and airtight lid ensure they can take their drink everywhere and cut down on waste! The mug also keeps drinks warm for a long time.
Tip #4: Fabulous long-lasting flower gifts!
Flowers are a classic when it comes to Valentine's Day; they are colourful and fragrant and a lovely way to say I love you to someone. If you opted for a beautiful bouquet of red roses last year but are on the hunt for a greener option this year, we've got you covered. Dried flowers are a great way to give a gift that will last. A fresh bunch of flowers, although beautiful, loses its shine quite quickly. A bouquet of dried flowers lasts for an average of 6 months!
Tip #4: Get your eco-friendly shop on!
Disposable shopping bags are a highly polluting product that end up in rivers and oceans, causing enormous environmental damage. If your favourite person is environmentally conscious they will be delighted to receive a personalised tote bag for all of their shopping needs. Select your favourite design, add a photo and/or text to create yours now!
Tip #5: Brilliant sustainable beauty gifts!
Beauty products often use materials that can't be recycled or risk polluting the environment. Surprise the love of your life with a personalised Love, Beauty & Planet gift set, including vegan body care products in recycled and recyclable plastic packaging. Haven't found your Valentine's Day gift yet? Take a look at our selection of gifts and choose your favourite!
View all Valentine's Day gifts>